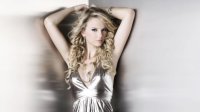 It seems likely we may someday see Taylor Swift on the Broadway stage. Taylor tells the Philippine Daily Inquirer it's actually theater, and not songwriting, that is her true first love.
"When I was growing up in Pennsylvania, auditioning for Broadway was my dream. I went to several auditions in New York. I was always going there for vocal and acting lessons... and for auditions, where you stand in line in a long hallway with a lot of people, " she says. Even though she eventually turned her attention to music, Taylor says she's never lost her love for theater.
After roles in Dr. Seuss' The Lorax and Valentines' Day , Taylor continues reading scripts in her free time and looking for another part on the big screen. She confesses there's a level of "obsession" she's looking for in her next role. "If I do a movie, you will know I cannot think of anything other than that character. I'm such a fan of great writing and great storytelling."
Taylor's most recent recordings are two songs from the soundtrack of The Hunger Games.

Copyright 2012 ABC News Radio